Reviews and client comments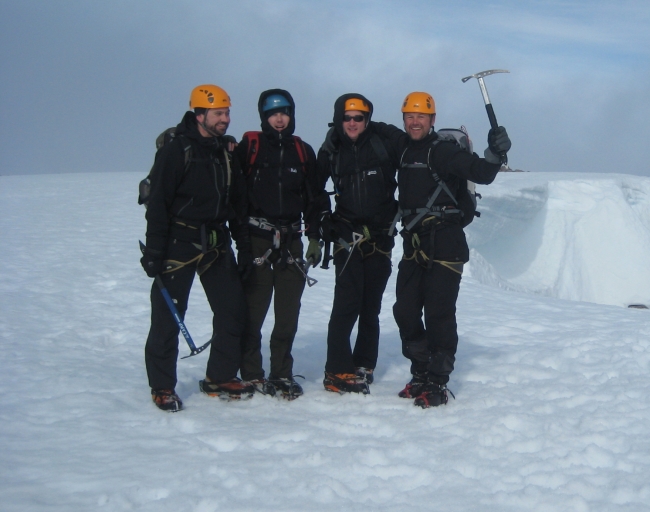 Over the years I have taken a lot of people walking and climbing, of all ages and abilities, with many returning for more advanced courses as their experience has developed. I've always been happy to be contacted if they have further questions or need advice – and some keep in touch using my Facebook page or Blog.
I see my responsibility as an instructor to provide a safe, informative and inspirational experience for my clients at whatever level, and I have positive comments from previous clients which hopefully reflect this.
" Hi Alec, Fantastic day – was as perfect as I could have expected. Loved every second of it……. just about! Thanks again for making the day just what I needed. Can't wait to see the photos. Cheers Matt" Winter mountaineering – December
"Hi Alec, Thank you so much for Saturday, we all really enjoyed the climb. I think we all agreed that it was the perfect route for us, challenging enough to feel like we'd achieved something and with a nice mix of hiking, scrambling and battling the elements. Your instruction and encouragement were spot on, and your calmness and good humour made us all feel at ease from the off. I can definitely see myself doing this sort of thing again, loved it! Cheers for the photos too, they're great! Awesome experience, thanks again! Lewis" Snowdon in winter – January
"Thank you so much for such an enjoyable and massive learning experience over the weekend. It was AMAZING and AWESOME… learnt so much … Will definitely drop you a line in the future, i must say that you taught us the best coaching on climbing I have experienced and so thank you so much." Alison & Leanne Sport climbing – June
"Hi Alec, thanks very much for the pics! and thank you also for the course, it was great fun and very informative…just what we were after " Matt & Pete Winter climbing – March
"We have not stopped talking about all the fun we had and what our next adventure will be. The photo's are great. I am sure we will speak again soon and hope to climb with you again at some point" Rob & Rose Lead climbing – July
"Hi Alec, really enjoyed the last 2 days in the mountains, left me wanting to learn more !" Craig, Winter Skills – Feb.
"It was a fantastic trip and Richard and I are in the process of planning our next one. Your winter skills course is next on our list I think. I can't wait! Henry, Cuillin Ridge – August.
"Thanks again Alec, I cant stress enough what a great weekend we had a just how much you taught us. We will defiantly be in contact with you soon about another course." Rob – Learn to lead May
"Thanks Alec. I had a great day on Sunday – really did enjoy it much more than sports climbing and will be exploring ways to get some experience." Graham – Private tuition April
"Hi Alec We had a really good day. You are a professional instructor and your patience and calm approach allowed us to make our own decisions. We have ordered the Symonds Yat guide book and, weather permitting, will be going back next Sunday" Sam & Tim – Outdoor climbing April
"Hi Alec We both had a great weekend thanks! Lots of choice of companies on the internet offering this sort of thing, but I'm glad to say that I don't think we could have done better!" Kim – Mountaineering course Feb
"A fantastic couples of days Alec – thanks very much! Certainly learnt a lot and can't wait to get out and test some of it out very soon. Cheers. " James – Winter climbing Feb
"Many thanks for a brilliant weekend!" – Fiona Winter mountaineering Jan
"Hi Alec, it was an awesome weekend! Thanks for the great mountain guidance, me Neil and Tony are planning to get back out early next month and I can't wait for the practise, we'll be in touch if we have any questions! Cheers! Ian Winter climbing Jan
"Hi Alec, Just to say a huge thanks for the inspirational instruction on Saturday. The day was awesome!" – Darren, Lead climbing course Oct
"Hi Alec, thank you very much for the photos and for making, with your guidance, advice and patience, our first attempt at rock climbing an unforgettable experience! It was an amazing day! I can't wait to do it again!" – Maria Outdoor rock course Oct
"Just wanted to say thank you so much for all a fantastic weekend's climbing. I learnt so much. Thanks again for all your guidance, patience and encouragement throughout the course." Justine – Outdoor rock course October
"Hi Alec, thanks for the photos, we all had a really great day and learnt so much, and shall definitely like to do some more soon! thanks for all your help and we all agree you were an excellent teacher, and thoroughly enjoyed our day out." Freya – Outdoor rock course Sept
"Hi Alec, just wanted to say thank you again for yesterdays climbing! Arms are aching today but really enjoyed the whole day – and really appreciate the excellent instruction! Will be in touch in the future for ML refresher and maybe some ice climbing! Thanks again " Rachel
"Thank you so much for such a great experience, we all loved it and definitely would love to do climbing again. We will keep you in mind and will come back to you!Thanks for the great pics!" Mina – Private guiding October
"A big thank you for a really great three days. We had such a good time, very enjoyable. As well as actually getting up climbs we learned all sorts, so have lots of tips and pointers to think about and to put into practice. Thank you for all your patience and encouragement". Jude – Private guiding July